The Most Innovative SEO Company
DEJAN is an Australian search marketing company with worldwide recognition for marketing excellence and innovation. We specialise in technical and strategic search engine optimisation solutions designed to drive traffic and sales to local business, e-Commerce and corporate websites. With unmatched research capabilities our team delivers business intelligence which goes beyond standard data sets. Strategic advice we provide is geared towards maximum impact and speed, delivering quick return on investment.
Search Engine Optimisation (SEO)
SEO is an effective way to drive qualified traffic and sales to your business. Our consultants observe Google's latest guidelines and offer solutions designed for quick ROI and long-term results.
Paid Search
Pay-Per-Click advertising and AdWords Management can be time-consuming and tricky for novices and even well-seasoned users. Our Google certified PPC account managers are experienced with many platforms and know how to achieve optimal ROI.
Content Marketing
Content Marketing is all about improving what users read and see on your website and social media pages. It's an excellent tool for branding and improving your site's authority in the eyes of Google and your customers.
Conversion Optimisation
Conversion rate optimisation (CRO) is a strategy best suited for businesses that are having trouble with customer acquisition despite having reasonable traffic to their website. We have CRO specialists who can analyse exactly what can be improved to boost sales and leads.
Industry Recognition & Media Coverage


Reviews and Testimonials

I highly recommend them
"Dejan SEO provide an excellent service. They don't just get results, they actually care about you and your business goals." Martin Sejas, Ensafe Group

I highly recommend Dejan
"We've been with these guys for about 9 months and have been very impressed with their results."
Edward Grant, Metro Resumes
Professional team, quick response times
"Very knowledgeable and definitely helped us fine tune our web applications to leverage the best out of the SEO strategies. Good analytical reports to help gauge our progress." Anish Roy, Coastalwatch
Aim for a long term result.
"I can't recommend Dejan SEO highly enough! Chris reviewed my website in detail and not only for quick improvement of ranking, but also for a long term result." Dr Peter Gu, My Acupuncture
Results
There is no doubt that clients who have utilised all of our services have benefited the most. A full digital marketing strategy will encompass all of our expertise and resources to make waves in your industry with a superior website and online presence. More than six years of developing effective SEO, PPC, CRO and content marketing strategies will be applied to your tailor-made package.
Digital Marketing
A complete digital marketing strategy is good way of covering all of the above services and is a sure way of getting the most out of your promotional activities. This is the best option for large and complex websites or kickstarting a brand new website.
Experience
Growth within our company and client base has allowed us to stretch our legs and excel in all areas of digital marketing. From clever SEO strategists to creative content writers, we have an experienced collective of team members who are proven campaign champions.
People
SEO has always incorporated many disciplines of digital marketing but an increasingly varied skill set within our team has meant we can engage our in-house specialists on demand. Your dedicated digital marketing strategist will consult these talented individuals located all around Australia and Europe.
Our Approach
Knowledge, Data and Strategy. A digital marketing strategy is by no means a simple solution and requires a structured approach dependent on a number of factors. We will meticulously assess your current position before laying out a strategy that will include the best tactics being carried out at most opportune time.
Innovation
Dejan has an international reputation based on our ground-breaking innovations and discoveries. Many agencies use terms "leading" and "innovative" quite liberally. We at the other hand have a portfolio of unique tools and methodologies designed to give us and our clients unique insights and a competitive edge. This year we're leading the transforming link building practices in Australia.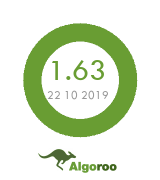 Daily Algorithm Updates
26/04/2015 – The weekend roller-coaster has kicked in with 1.7 roos on Saturday and 2 roos on Sunday. With the exception of the Mobile-Friendly update, April has been largely uneventful as far as algorithmic changes go. Are things about to get a lot more interesting? Sit tight and let's see what the next few days will look like.
Internal updates at Google often affect how much flux we see in results. If an update changes search results permanently and we see a consistent volatility values from that point on we mark this event as the beginning of a new SERP epoch. These events are easy to spot when looking at yearly data as they look like steps (illustrated below). We're currently in Epoch 9*.
*Our Epoch count starts from late December 2012.